I have a somewhat hair-raising experience to relate ... this is a good one, well worth telling! You might recall me mentioning a few days ago that I'd just ordered up a new graphics tablet -- and it arrived today. It's a Kanvus, and a pretty thing -- which sorta-kinda works. The pen is great but the tablet part is only functional over half the drawing area. This could be something to do with the configuration, and I'll mess about with that tomorrow, see if I can get it working properly.
This
wasn't the hair raising bit, because --
Something made me try the new pen, with the new drivers installed, with the OLD tablet which didn't work under Vista, and you'll never believe this. It works! Ooooold tablet, new pen, new drivers, very close to perfect combination. Could be better when working in GIMP with the huge .abr brushes, but hey, I'm not complaining, because it actually is working. But --
Before I installed the tablet drivers, I had Opera installed on the computer here. I use Opera quite a lot, because when you get on some sites that are powered by certain persnickety java engines, IE starts to jack around so badly, it's a major headache, and Firefox doesn't -- yet -- shake hands properly with a lot of the top-end java-heavy sites. Opera is the perfect standby. So I had Opera v11 installed, and ...
Then I installed the new graphics tablet drivers, the end of which process requires a reboot. Fair enough. By that time this computer was getting "tired RAM" in any case, so it was time for a restart. So I hit the button to reboot, went for tea, and when I came back it was up and running. And Opera had been utterly, completely, totally
uninstalled
. There wasn't a trace of it anywhere on the system.
Say -- what? Or if you want it in modern parlance, WTF?!
Obviously, you just go back to opera.com and run the installer again, but I mean --! Installing the drivers for a new USB device, right off the company's CD-Rom, uninstalls some of your existing software?!
Of course, I took inventory, made sure nothing else had vanished. No problem, just Opera. And I think I'll be shaking my head over that one for some time to come.
Today was a blizzard of work after which I rewarded myself with twenty minutes of art time. There was no opportunity to put a figure into the above set, but it was lovely playing with the lights. The front-lit shots look a little plasticky; I need to get into DAZ and figure out some of the virtual camera controls, which are
nothing
like the controls on a real camera, incidentally. You need to forget everything you ever thought you knew about cameras, and work this out from scratch. I can do that.
But when I turned the camera around and did a couple of renders in the other direction, which put the columns into silhouette ... ah. Now, set up a light to reflect in the polished floor. Then take the render into GIMP and add the moon and some birds. Nice.
The set is Temple of the Shadows, which I got from either Renderosity or Content Paradise in a sale a long time ago. I actually forgot I had this, and stumbled over it this morning while looking for something else! I like this a lot, and I'll be back on this set, with a figure or figures.
The other project for today was a new cover for the old Mel Keegan thriller,
Storm Tide
. That's a fantastic book, but we put a generic cover on it ... nice cover, but generic nonetheless, and I think it's the cover that's killing the book. So we're going to repackage it:
...and that's worth a closer look at the art, where you can see the lovely process effect on the background, as well as the delicate shadows on the male nude in the foreground. Okay, so we went from generic cover to male nude. Let's see what happens now!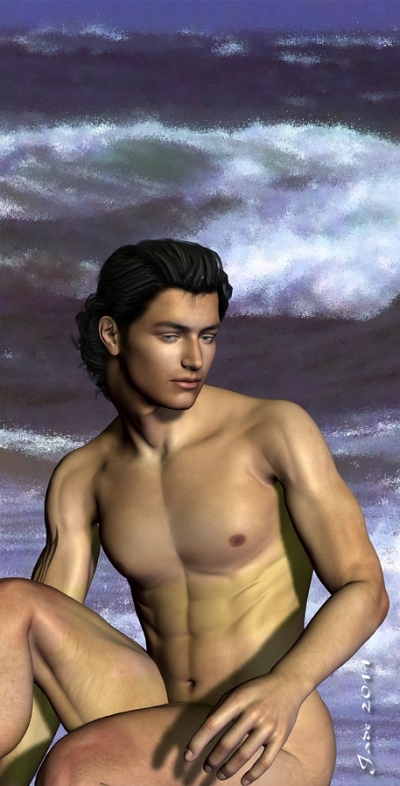 Jade, 28 February