Today I'm actually playing with camera angles. The lights were only set up once, and most of the really clever effects, like the smoke and candle glow, were done in GIMP afterwards. DAZ Studio 3 will do atmospherics, but this computer won't! Go into Bryce and try turning on the "volumetric" stuff, and you better start looking for the black box. After the crash, that is!
This is the same set as the Wizard's study -- you saw it just the other day ... and this is the same character as the Musketeer who was dodging Cardinal Richelieu to have a dirty weekend in the creepy old castle. I took out the props and furniture, then mered the scene with the Musketeer, and from then on it's all about piloting the camera around, and finishing the shots of with GIMP brush effects.
Speaking of the brush effects, this is work a look at 1:1 size: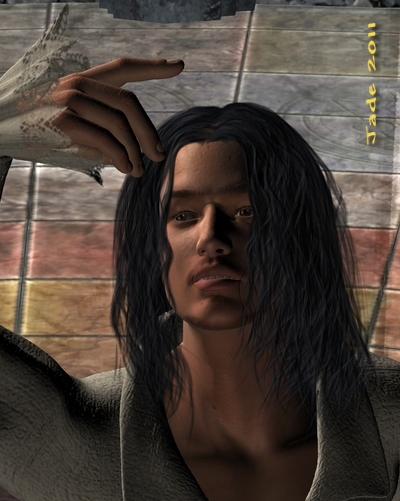 The eyelights were hand-painted ... nice!
I would loooove to be on a movie set and doing this stuff. Can't you tell?! Or is that my megalomaniac streak showing? I mean, I'm not saying that movie directors are given to the odd big of megalomania, but...
Jade, 30 March