Just beauty shots today, guys ... am scrambling to catch up with everything that has to be done today because tomorrow will be busy beyond belief -- and I might not get back to the blog here for a couple of days after that! My partner and I have the opportunity (also the excuse ... it's our twelfth wedding anniversary. Good gods, is it really 12 years?) to get away for a couple of days, and we're grabbing it while the grabbing is good. We're not going too far, just a driving tour of the peninsula, east as far as the lagoons, back up to the wine country ... leaving Saturday morning and getting back Monday afternoon. But tomorrow (Friday) will be a mad scramble to get through shopping, packing, last-second stuff, and that makes today a challenge, to get work all tied off, neat and tidy, so it'll hold till Monday!
At this point there's no plans to take a laptop, so don't worry if you don't see anything new on the blog here for a few days. It hasn't been abandoned. Post 500 is coming up very soon. I found about 7 old drafts which had been saved in error, and after I deleted them, it kicked me back to Post 490 (this one), so I need to think of something major to do for #500.
Yikes. What?!! Every time I try to think of anything, I go blank!
Today: Courtesan in the Queen's Chamber. DAZ was having a lunatic sale, where you could get things like the Treasures of Egypt for $1.87, so I got Treasures of Egypt 1 and 2, plus The Queen's Chamber. I've had them since January, and had no time to even unpack them! I installed everything this morning while having a break, and here you go. Beauty shots indeed! These are some absolutely gorgeous props that'd suit fantasy work too ... or Indiana Jones type work. Now, there's a thought --!
I did them in widescreen, but this is worth a look, in closeup: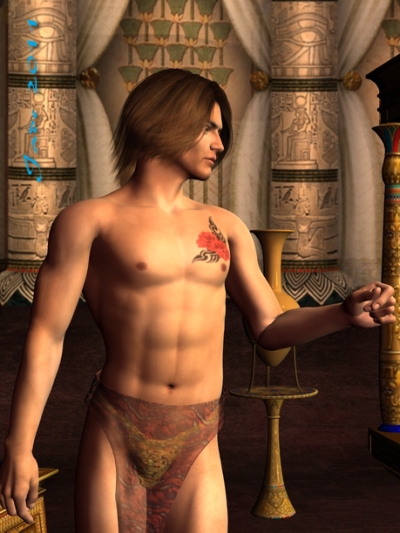 Who says courtesans
have
to be nubile young females? Enjoy!
Jade, 17 March