And now for something very different ... which is well worth seeing in much more closeup than you can ever see in the little shots Blogger pastes into the body of the page: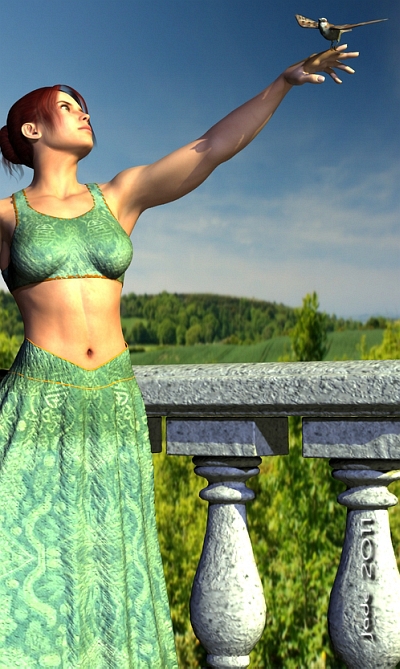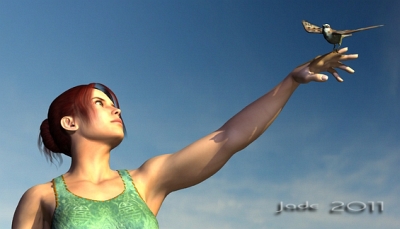 This is the first time I've worked with a model of a bird (feathered variety!) and I have to say I'm enchanted:
It's the sparrow, from Content Paradise (Smith Micro), which is actually a Poser model, but as I discovered a long time ago, you can get virtually anything from Poser to work in DAZ -- it just doesn't work the other way around, apparently. The only place where DAZ comes unstuck is in the area of shaders and texture handling. DAZ and Carrara do things differently ... and Bryce is a law unto itself, which I still only halfway understand.
A few months ago, Content Paradise was offering some freebies as a sort of baited hook to get people into the store. I bought a number of things -- almost all of them were intended for the old
Abraxas
project, which stalled when it was labelled as "pornography," which took me so completely by surprise, I was dumbfounded. Porn? From me?! So I never went went back to
Abraxas
, which meant I wound up with loads of models which I'd bought and filed, intending to use them in the story. Anyway ... Content Paradise was having this special deal in which you could help yourself to some lovely freebies. The little bird was one of them...
There was also a Snowy Owl, which I got at the same time -- same story. It was shelved, or filed, and I never got back to it. I got these guys at the same time as I bought the elven trading ship and the gypsy wagon, and a whole medieval town. You can see where my imagination was going at the time!
So here you have the sparrow from Content Paradise and Victoria 4.2 from DAZ, wearing the sport bra and the Witch Hazel skirt with all textures changed out for mine; standing in front the the banister from the B9999 Stone Accents pack which has one of my displacement maps added; and in the background is a landscape blurred right out to simulate the way a camera would grab the shot. Only three lights are set, but they're very bright, with shadows set, and raytraced, to do a pretty good rendition of real daylight. Nice!
Jade, 15 March